AIM IT Services is the Fastest Growing I.T. Solution    
Brand, Marketing and Sales Support
Comprehensive Business Model
Backed by a nationwide distribution center, ongoing marketing programs, sales, and technical training programs.
Turn Key Model
During the first 30 days we will help you set up every aspect of your business.  From marketing, sales readiness, and operations.  And…support you every month to ensure your business can grow.
Globally Recognized Brand
For over 20 Years AIM IT Services has built a global brand in North America and countries around the globe.
Superior Industry Support
In-depth training, proactive support, monthly consulting and daily support.
A Proven Business Strategy
A business plan designed that allows you to retain the majority of profits for doing the smaller percentage of work.
Financing Available
A business plan designed that allows you to retain the majority of profits for doing the smaller percentage of work.
[table id=4 /]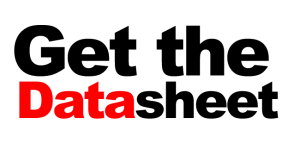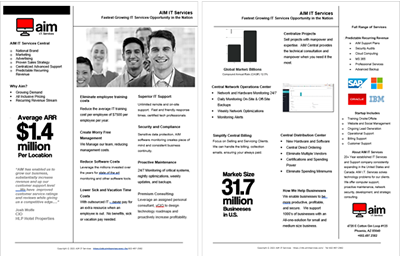 IT Services Company
Let AIM managed IT services company take care of essential, time-consuming tasks that include network monitoring, routine administration, security updates, remote and on-site reactive support, help desk-all with guaranteed service levels, and at low flat rates.
Find out how our managed service provider programs help you gain control of your network and your budget.
Zero Capital Cloud Services
A Private Cloud enables you to leverage state-of-the-art, highly secure managed data without tying up capital in facilities, servers and other technology.
Extend Your Team with the Smartest People
Smart and talented people are our thing.  You're already aware that the U.S.  is  home to the friendliest and smartest people on earth. Pair that with truly talented individuals who know their stuff and you have your extended dream team..
One Low, Fixed, Predictable Cost
Finally, a single source for companies to manage, protect, and scale IT services at a low fixed price.    We are different.  One cost does it all.  Support, Network management, Security, and much more.  No hidden costs.  No extra fees.  Just the smartest people on the planet supporting your business.
Grow without CAPEX
Growth is great, but growing up or down can create challenges on resources and finances.  Eliminate tough choices on expansion by leveraging outsourced IT services that scale without CAPEX investments.   Free up resources for operations, sales, and marketing without the need for CAPEX investments.
Reduce Labor Costs:
Labor for most is the largest organizational expense.  Cutting labor costs is the quickest way to positively impact your bottom line.   The average IT outsourcing client reduces labor by 42%+
Outsourcing IT services with AIM reduces labor costs without undermining quality and productivity.   We use the latest technology, tools and services to keep your organization ahead of changing technology, while immediately adding bottom line profits
Schedule IT Services Today!
Ready to find out the lowest hanging fruit to reduce costs?  Contact Us for a Free evaluation.  No strings attached.  We love talking outsourced I.T.
Schedule an Appointment
In the News!